COMMON EMBARRASSING MISTAKES IN SPANISH
We all make mistakes when we are learning a new language, that's a given. Some of them are just regular mistakes, and some of them are hilarious. I have been teaching Spanish for 4 years already, and I have seen these over and over again. And even though making mistakes is completely ok, sometimes it would be nice if someone tells us in advance about these embarrassing and funny mistakes and saves us from some embarrassing situations.
1. EXCITED ≠ EXCITADO
When you want to say that you are excited don't say "estoy excitado/a". This has a very strong sexual meaning! You are actually saying you are aroused and kind of horny.
Say instead, "estoy emocionado/a" or "me emociona"
Same goes for "it excites me" don't say "eso me exita" as you will be saying, "that turns me on".
Say instead, "eso me emociona"
And for "that's exciting" try, "que emocionante", or "que emoción"
For example: ¡Voy a tener un bebe! ¡Que emoción!
(I'm going to have a baby! how exciting!)
¡Me emociona viajar por Sudamérica por 3 meses!
(I'm excited to travel around South America for 3 months!)
2. I'M HOT ≠ ESTOY CALIENTE
Here, you are really saying that you are horny. Do not translate this literally.
Unllike English, in Spanish we don't use the verb -to be- to talk about thermal sensation, we use the verb tener, so we literally say: we have heat.
Say instead: "Tengo calor"
For example: Hoy hacen 30 grados, tengo mucho calor.
(It's 30 degrees today, I am very hot)
3. I'M GOOD ≠ ESTOY BUENO
If you say "estoy bueno" you are saying that you are sexy, that you think of yourself as a very attractive and hot person. I'm not judging here, if you think you are hot, good for you! But it would be very funny if someone asks you "Hey, how are you?" and you say: "Oh I'm so sexy"
Say instead: "Estoy bien" to say you are doing good, or "Soy bueno" if you want to say that you are good at something.
For example: Yo soy bueno tocando el piano
(I'm good at playing the piano)
Note: You may read in some places that "estoy bueno" means that you are healthy, but this is not really used in real conversations, so don't take chances.
3. TO INTRODUCE ≠ INTRODUCIR
To introduce in Spanish is to insert, or to put in. So, if you say "ella me introduce a su hermano" well…I'll leave the meaning to your imagination.
Use instead: Presentar
"Ella me presenta a su hermano"
(She introduces me to her brother)
When you want to say that someone has introduced you to something, use instead:
"Mi amigo me ha hablado de…"
4. EMBARRASSED ≠ EMBARAZADA
If you want to say that you are embarrassed about anything and you say: "Estoy embarazada" you are actually saying that you are pregnant, and your latino boyfriend will probably panic and pass out. If you are a man, this will be even funnier/weirder.
Say instead "Estoy avergonzada/o"
For example: Mi vecino me vio en la ducha, ¡ahora estoy muy avergonzada!
(My neighbor saw my in the shower, now I'm so embarrassed!)
Note: Embarrassing = Embarazosa/o.
Use it to talk about a situation that was embarrassing, not about your feeling of embarrassement.
For example: Esa fue una situación muy embarazosa
(That was a very embarrassing situation)
5. PRESERVATIVES ≠ PRESERVATIVOS
If you say that you don't eat certain food because it is full of "preservativos", it sounds very funny because "preservativos" are condoms!
Use instead "Conservantes"
For example: La comida congelada está llena de conservantes.
(Frozen food is full of preservatives)
BONUS TIP: AMERICANO/A
If you come from the US, you will tend to say that you are American, saying: Yo soy americano/a. The problem is, in Latin America we are all americanos. People from North America, South America, Central America. It is all America, and so we are all americanos.
Some people can be very offended by this, so if you are from the US say instead: "Yo soy de Estados Unidos"or "Yo soy estadounidense"
Just like America is the whole continent and not just the US. The US is "Estados Unidos"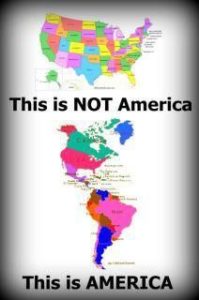 FINAL NOTE
Once again, making mistakes IS OK!
Don't worry too much if you make these mistakes, just laugh at the situation, learn from it and move on. Don't ever stop practicing because you are afraid you will make a mistake, practicing and making mistakes are very important to learn Spanish.
Let me know in the comments if you have ever made any of these mistakes, or if you have any question.
Look smart, share the knowledge
Follow closely for updates. Don't miss out!