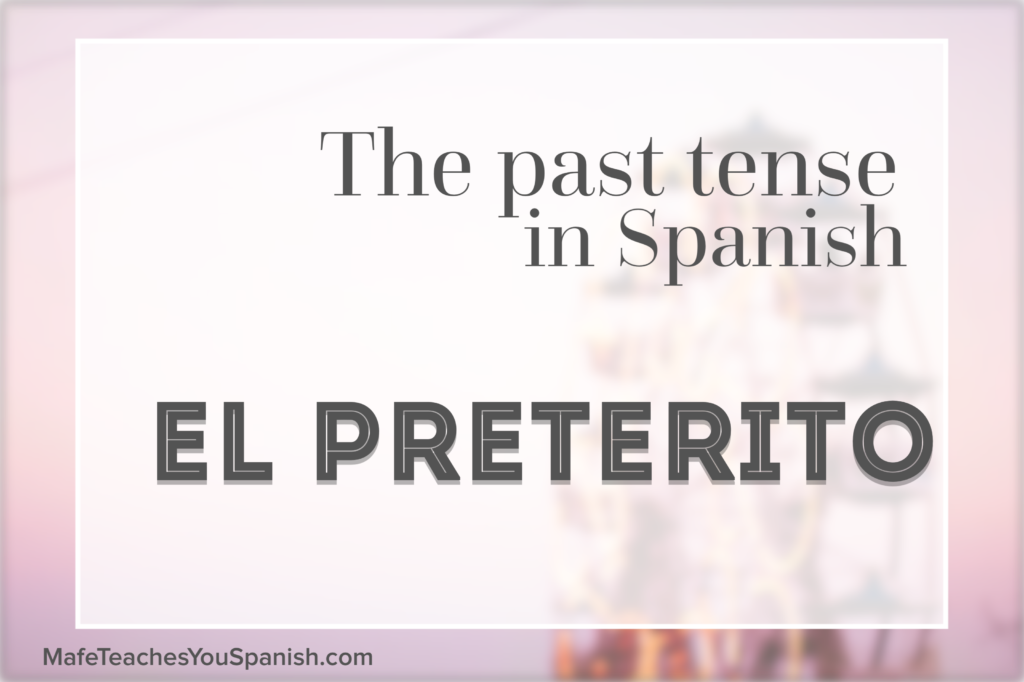 The pretérito is a tense that we use to talk about things that happened in the past at a very specific point in time and had a specific duration:
Specific moments in history:
Christopher Columbus discovered américa in 1492
2. Specific actions in a story
Last year I tried Chinese food for the first time
3. Actions that happened only once in the past
Yesterday your sister went to the supermarket
4. Actions that had a specific ending in the past
I lived in Colombia for 10 years
CUES: These words will help you identify the preterite:
ayer
el lunes pasado
la semana pasada
el mes pasado
el año pasado
en 1987
de repente
---
CONJUGATION PRETÉRITO
As usual, we take the 3 groups of verbs AR, ER, IR
AR Verbs
You drop the AR and add the corresponding endings. We are going to use the verb HABLAR as an example:
Yo habl-é
Tú habl-aste
Él habl-ó
Ella habl-ó
Nosotros habl-amos
Ustedes habl-aron
Ellos habl-aron
Ellas habl-aron
ER Verbs
Drop the ER and add the corresponding endings. We are going to use the verb COMER as an example:
Yo com-í
Tú com-iste
Él com-ió
Ella com-ió
Nosotros com-imos
Ustedes com-ieron
Ellos com-ieron
Ellas com-ieron
IR Verbs
Drop the IR and add the corresponding endings. We are going to use the verb VIVIR as an example:
Yo viv-í
Tú viv-iste
Él viv-ió
Ella viv-ío
Nosotros viv-imos
Ustedes viv-ieron
Ellos viv-ieron
Ellas viv-ieron
SUMMARY

---
EXAMPLES PRETÉRITO
Ayer me levanté a las 8 de la mañana, comí unos sándwiches y tomé un jugo. Fui a la escuela y hablé con mis amigos. Por la tarde estudié en la biblioteca y corrí en el parque. Por la noche cené con mi familia y vi un poco de televisión.  A las 10 de la noche me acosté y me dormí.
(Yesterday I got up at 8 in the morning, I ate some sandwiches and I had a juice. I went to school and spoke with my friends. In the afternoon I studied in the library and ran in the park. At night I had dinner with my family and watched a bit of TV. At 10 o'clock I went to bed and fell asleep.)
NOTE: Notice how this story is describing specific actions that happened at a specific moment and had a specific ending.
NOTE2: Notice how the reflexive verbs follow the same rules in the past that in the present: Reflexive pronoun + verb conjugated (in pretérito)
---
IRREGULAR VERBS IN PRETÉRITO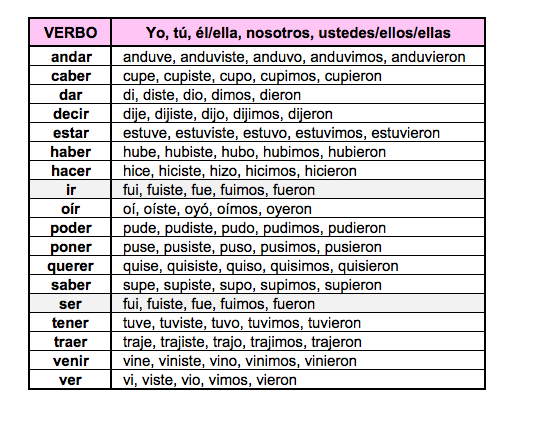 Notice that the verb SER and the verb IR are the same in the preterite.
Example:
Ayer fui al supermercado (Yesterday I went to the supermarket)
Yo fui buena estudiante en la escuela (I was a good student in school)
¿Fuiste a la fiesta de María? (Did you go to Maria's party?)
Tú fuiste el que me llamó anoche (You were the one who called me last night)
---
Take a lesson about the PAST TENSE IN SPANISH
Having trouble understanding the use of this tense? Would you like to practice it in real life?
Send me a message to book a lesson now and I will help you to understand, practice and use this tense and more.
---
PRACTICE PRETÉRITO
Ayer ellos (ayudar)….a ganar el partido
Ustedes (cambiar)…el lugar de la fiesta
Él (comprar)….un carro rojo el a
Nosotros (hablar) ….. con la maestra
El año pasado ella (aprender)…. mucho
El viernes yo (bailar) …. toda la noche
 Anoche tú (dormir) …. 8 horas
Ayer (yo/conocer) a tu hermana
Ella (nacer) en 1987
¿En dónde (dormir/tú) anoche?
---
Answers: ayudaron, cambiaron, compró, hablamos, aprendió, bailé, dormiste, conocí, nació, dormiste